All participants who successfully complete the training program receive an email certification and physical wallet cards for no additional fee!
Sample Certificate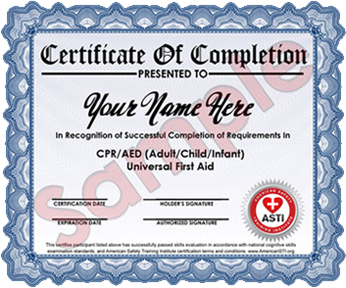 Sample Certification Cards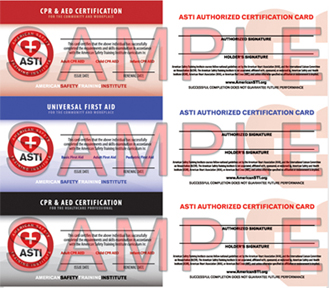 After completing the online CPR training you are immediately emailed a nationally recognized certificate of completion issued by the American Safety Training Institute. Certificates are signed by an authorized ASTI instructor and are valid for 2 years. Physical wallet cards are mailed to you within 24 hours. Cards are signed by an authorized ASTI instructor and contain your certification number as well. Our training courses are designed to prepare you 100% for the certification exam. Our training is designed to be very educational and low stress. If you do not pass the exam the first time you can take the exam again for no additional fee. Our goal is for you to learn the CPR guidelines and not worry about the exam like most do. Test anxiety can cause a participant to memorize course material short term to pass the exam but nothing more than that. We want the material to stick with you as these techniques could be the difference between life and death.